I go out everyday for work, and since I don't have a car, I just walk to work, thankfully I live just seven minutes away from my work place. So everyday, I battle against the elements, rain, snow, heat of the sun, wind, the freezing temperatures and the wind chill. All these elements makes my hair frizzy, so when I get to my work place, my hair is… let's say… all over the place. At work, I always tie my hair since it is a requirement and because of that, my hair especially those on top of my forehead, they just don't go in place.
But I am saying goodbye to frizzy hair with my Cortex Solo 450 Jet Black Titanium Flat Iron/Hair Straightener from Flat Iron Experts! I was sent a piece of this together with a Flat Iron Experts Iron Holder, a can of KQC Thermal Shine Spray and a bottle of Macadamia Natural Oil Rejuvenating Shampoo to try and review.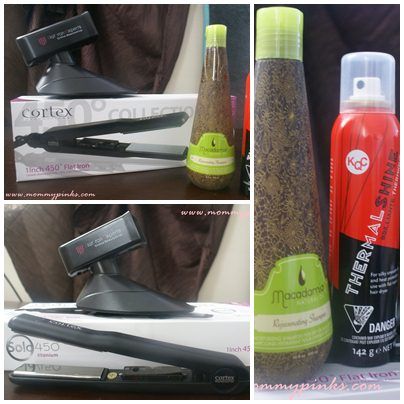 I was so excited to try the Macadamia Natural Oil Rejuvenating Shampoo and of course, the hair straightener itself. So after shower, I let my hair dry, naturally, without using anything, the frizz was ever present! I sprayed some of the Thermal Shine which is perfect for using flat iron or hair straighteners to prevent damage to the hair. And the results?? Viola!
Frizzy hair no more!
They say that the hair is one's crowning glory and beautiful hair makes one attractive. I'd say frizzy-less hair made me feel beautiful and gave a boost to my confidence. I bear no model-like features and all, but the help of Flat Iron Experts and the products that they sent me, I feel like I am a model (talk about confidence)! Lol!
Feeling like a shampoo model… 🙂
With the Cortex Solo 450 Titanium Flat Iron, my hair was done just like those professionals in a beauty salon! Oh, and did I mention that I always wanted to have long, shiny and straight hair? Well, that's so achievable with the Cortex Solo 450 Titanium Flat Iron. When I used it, it eliminated the problem, my frizz, and the fly-away. Plus with regular use, it promotes smoother, silkier hair, renews softness, luster and shine. The premium Titanium plates and Ionic technology delivers all these, while the Far-infrared technology distributes even heat to hair within the shaft to prevent damage to outer cuticle. Amazingly, all these benefits, I got with just my first use!
The Cortex Solo 450 Titanium Flat Iron/Hair Straightener has a sleek, ergonomic design with a no-slip grip, it is not heavy and the plates are even and they close tight for even heat. Unlike my old hair straightener, the Cortex Solo 450 Titanium Flat Iron has a temperature gauge that offers ranges from 140°F to 450°F (60°C – 230°C), and it has an on and off button with indicator light that illuminates to indicate the flat iron is heating up.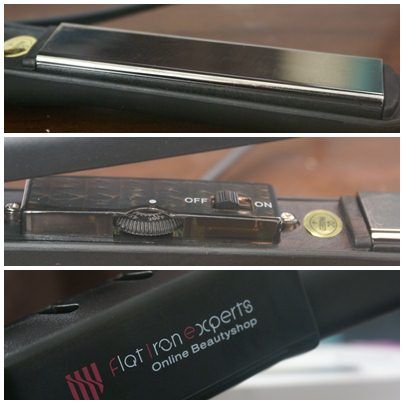 I really love this flat iron, and compared to my old one (which I haven't use anymore), this is way much better. I am very fortunate to have been given this opportunity to try and review this wonderful product from Flat Iron Experts.
Flat Iron Experts is an online beauty shop that offers free beauty tips and advice on choosing the perfect hair styling tool fit for any type of hair. They also sell the best flat irons and styling products. They have clipless curlers, professional hair dryers, curling irons, professional clippers, hot rollers and so many more. They also have hair care and cosmetic products such as shampoos, conditioner, nail polish, hair spray, heat protectant, hair extensions, hair loss treatment and even perfumes and fragrances. Flat Iron Experts is your one-stop online beauty shop.
So if you are also experiencing the same thing, like you've got frizzy hair and just wants to get have beautiful hair without going to the beauty salon and shelve out dollars, try the flat irons at Flat Iron Experts. You'll never go wrong and see the difference yourself. You can check out the links below:
Website: http://www.flatironexperts.com
Facebook: https://www.facebook.com/flatironexpert
Twitter: https://twitter.com/flatironexperts
Pinterest: http://pinterest.com/flatironexperts/
YouTube: http://www.youtube.com/fiebeauty
Blog: http://flatironexpertsblog.blogspot.ca/
*Disclosure: I received the products mentioned above for FREE, without any financial compensation. They were given for product review/endorsement purposes only. The opinions stated are mine and may differ from yours.