Today, I am tasked to share to you about my favorite book. I admit, I am not a bookworm, nor a book lover before when I was younger. Although I read books, but it's not like that I engross myself into it. But when I got the chance to work in the corporate world, I realized that I should have been one. It does pay well when you read books. So while in that world, I started going back to reading. I started buying back issues of paperback novels, then to hardbound books. When I went back to school to take up Education units and Special Education, I made the school library my hang out. I went back to reading. When I got married, the paperback novels were replaced with medical and nursing books… since my hubby is a physician and a nurse at the same time. It became my reference when I was pregnant and taking care of my little boy.
There is one book that I fell in love with when I started reading it. Push Not The River.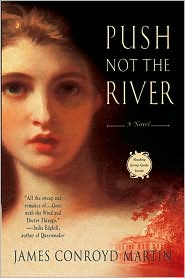 This book, written by James Conroyd Martin is based on the unpublished dairy of Countess Anna Marie Berezowska. It's a historical novel that took place in Poland. The story starts when Anna's parents died and she moved in to her aunt and uncle and her cousins. She then met and fell in love with Jan, but her cousin Zofia, a very manipulative and promiscuous girl, wanted Jan out of Anna tricked her into coming with her into the forest and abandoned her there. While there, Anna was raped by a stranger and her uncle came to her rescue but got stuck, while her cousins watch him die. Shortly after her attack, Anna married Antoni and their family transferred to Warsaw.
Now living in Warsaw, Anna's life changed intensely. A constitution was signed giving human rights to the peasants. Many Polish nobles were enraged by the new laws and called for Russia to deliver them. Anna discovered she is pregnant from being raped and gave birth to a son. It is then revealed that Walter her cousin, also a supporter of the Russians, was the one who attacked her in the forest. Anna became a supporter of Polish independence, but is forced to watch as her country is overrun by hostile powers. As the victorious Russians march on Warsaw, Zofia sacrificed herself to buy time for Anna and her family to flee the war torn city.
For me, it is one good read. I felt like I was really in Anna's time, feeling her emotions and all. I was really captivated by the scenes in the book and it really felt surreal. If there's a movie for this book, I would surely not miss it. I do have other favorite books, there's A Walk to Remember, The Horse Whisperer, The Notebook, The Butterfly House and some Stephen King books. But Push not the river really blew me away.
How about you? What's your favorite book?