I have been practicing my bento-making adventures these past couple of months and so far, I've collected a handful of bento supplies and accessories and have made several bento lunches for my school boy. I am a newbie to this kind of hobby and even though I always ran out of ideas and SPACE in my son's not-so-big lunchbox, I am always inspired by the many moms (and their blogs) who make creative lunches (and healthy ones) for their children.
When I got hold of the Laptop Lunches Bento-Ware Bento Lunchbox, I was so happy because I finally now have a lot of SPACE for my son's lunches and by the way, my son chose this color!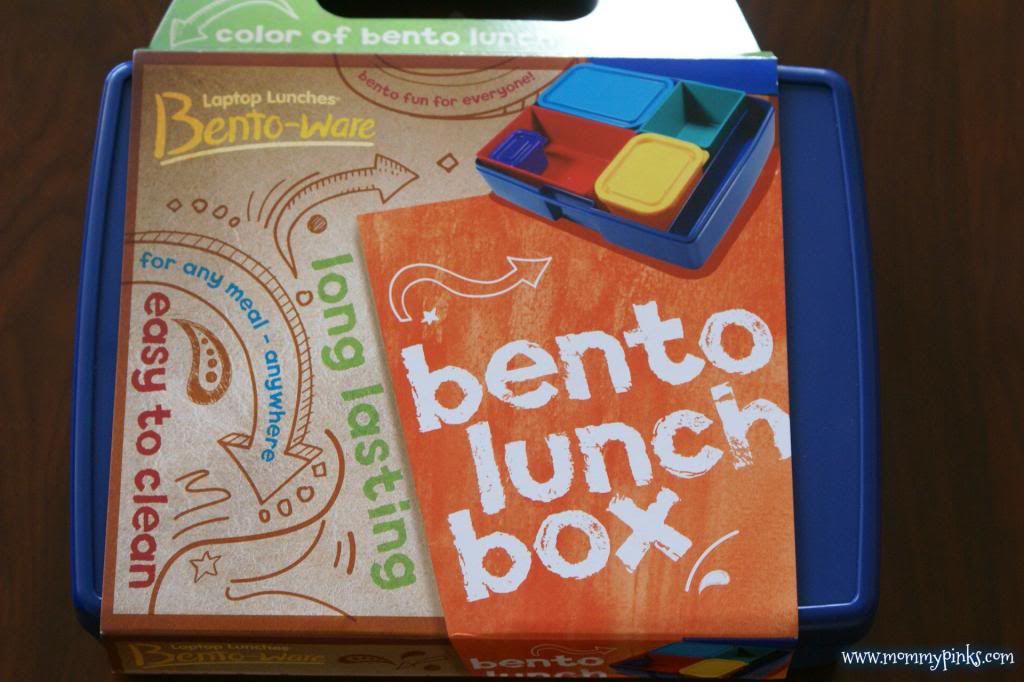 Laptop Lunches Bento Lunchbox is perfectly sized for my school boy, although I find it a little big for his lunch bag, but its size if big enough to hold serving portions fit for a first-grader. Inside the box are four containers or compartments with various sizes that sits just right. Two big and small containers and a tiny one have lids which are water-tight (leak-proof), while the two others don't have. It also has a section where I can place my son's spoon and fork and a napkin.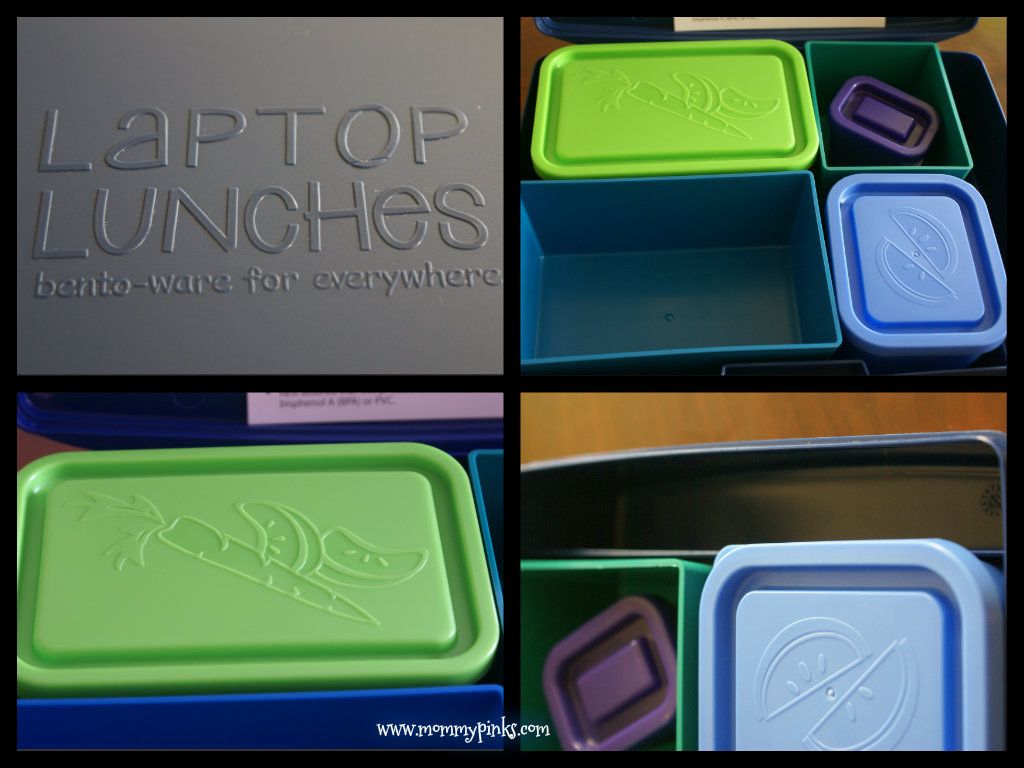 I asked my son (after showing him how to, he's only six years old) to open the lunchbox himself and surprisingly, he found it very easy to open, with hands and fingers half my size and whose fine motor skills are continually developing, the lunchbox did not give him hard time. Laptop Lunches containers are dishwasher and microwave safe (not the lids), it is BPA, PVC and Lead-free so it's very safe to use. It's also very easy to clean and allows me to interchange the containers for fun! Laptop lunches lunchbox is also eco-friendly, that means they are recycled, recyclable, and eliminates the use of plastic zippy bags, foil or cling wrap and ever since I've hooked to bento and making fun lunches for my school, I have not used a lot of zippy baggies anymore. Another feature of this lunchbox is that every compartment has a name label space at the bottom, so you can stick a name label on it and don't worry of losing it. Laptop Lunches though sell extras and replacement. Most of all it is cost-effective, packing own lunches just lets me SAVE a lot than buying those prepared lunches.
I've packed a couple of lunches using the Laptop Lunches Bento Lunchbox that we got and here they are: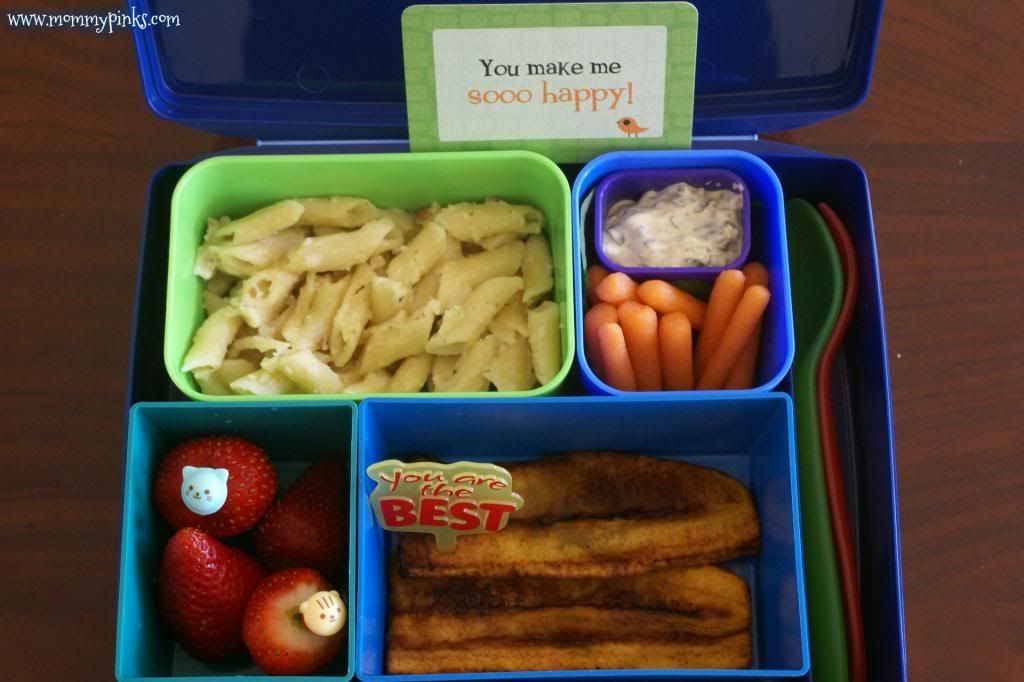 Lunch #1 includes creamy bacon carbonara (my son's favourite), some carrot sticks with spinach dip, strawberries and banana fritters. I also sent him a Lunchbox Love card to simply remind him that he makes me sooo happy!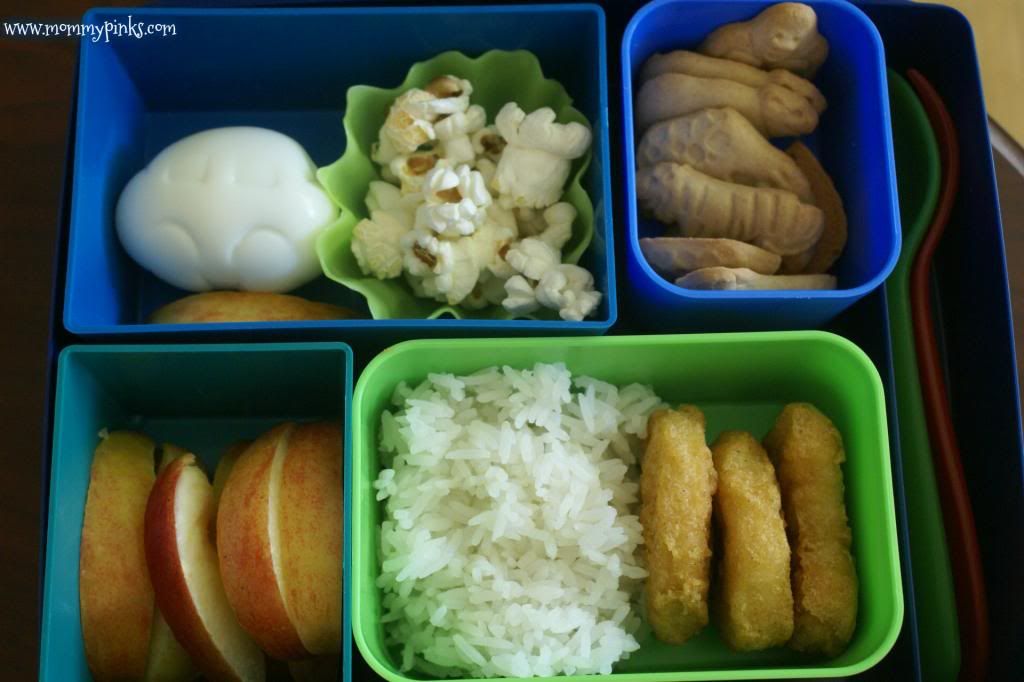 Lunch #2: We had some leftover chicken nuggets and rice, some popcorn, apple slices, animal crackers, and a car-shaped boiled egg.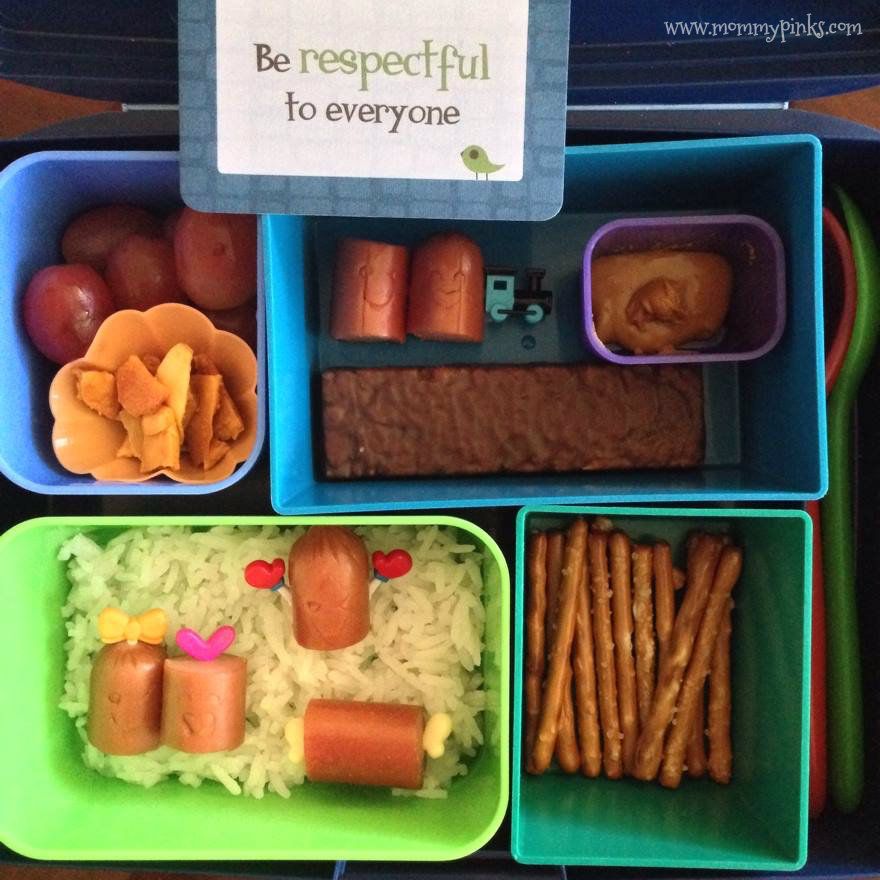 Lunch #3: He had what I call hotdog people on top of rice, pretzels, with WOWButter dip on the small container, baked & dried mango chips, grapes, extra hotdog people on a train food pick, and a granola bar.
So far, all his lunches came back with very few leftovers (mostly the rice and some pretzels and mango chips) and being a picky eater that he is, packing these food in a colourful lunchbox has greatly helped. It keeps his dry and wet food separated (much to my delight) thus letting him eat them in their original state. No soggy and yucky (wet) crackers or sandwich anymore! 🙂
Overall, Laptop Lunches Bento Lunchbox is approved by my picky eater school boy and by mum! We both love it and he wants to use it everyday even though it does not fit in his lunch bag, which will probably lead me soon to purchase a lunch bag from Laptop Lunches!
If you are looking for inspiration on making fun, creative and healthy lunches, head over to the Laptop Lunches website for menu ideas, recipes, and you'll soon find yourself listing down and bookmarking the pages (like I did)! You can also check them out on Facebook, see what they've been pinning on Pinterest and follow them on Twitter as well!
*Disclosure: I did not receive compensation for this review. Laptop Lunches did however let me purchase this lunchbox at a special discounted price. All opinions expressed in this post are my own and may differ from others.