Welcome to WordPress. This is your first post. Edit or delete it, then start writing!
Are you tired of your old boring wall decor? Then it is now time to put on something that will turn your rooms and walls into a piece of art! But how do you do that? Simply by putting on creative wall decals, wall stickers or wall tattoos!
I came across a website that specifically caters to wall decals, wall stickers or wall tattoos and I was really impressed at the wide selection of vinyl wall stickers they have! Don't bother about painting, glue, not to mention the mess that comes with it, decorate your walls with vinyl wall stickers. They are mess-free, easy to apply, and most of all they're affordable. You don't need the professionals to do the decorating, just simply stick the vinyl on the wall surface in any room and spruce up those drab walls!
WallDecalsCanada.ca offers wall decals for the nursery and kids room like this one (which by the way is so cute!):
Or Quotes and sayings that will inspire everyone, remind everyone how beautiful life is, such as this one (which again, I would really, really love to have!):
This wall sticker/decal practically speaks of what I always do and say (nag, sort of) to my school boy and so to keep my mouth shut and to keep him reminded of what to do and what not to do, this wall decal is just very perfect for me! Honestly, our living room is empty, so this would really be a good addition! Aside from these, they also have modern and retro designs, flowers and trees, birds and butterfly, or you can shop by room. They also offer holiday wall decals so the possibilities are endless.
I also like this wall decal:
What's good about WallDecalsCanada is that they can customize the walls stickers or wall tattoos exactly the way their customers want it to be. They use high-quality vinyl with a matte finish that repels any unwanted reflections. The wall stickers are also removable and can be applied to glass, indoors, outdoors and guess what, even cars!
Truly, with wall stickers/wall decals like these, I can liven up any room, any way I want it. It's affordable, removable and easy to use! Visit WallDecalsCanada now and you might just find the right wall decal to spice up any room in your house.
I received a box of Sally Hansen Complete Salon Manicure for the Sally Hansen Total Knock Out Vox Box courtesy of Influenster. It is my first time to review an Influenster VoxBox and it is just one nice box as it will ready me (and my nails) for sandals and flip flop season or just to let me skip the salon for some nail pampering! Wohooo!
So I got these beautiful colours for my nails and they are really a knock out!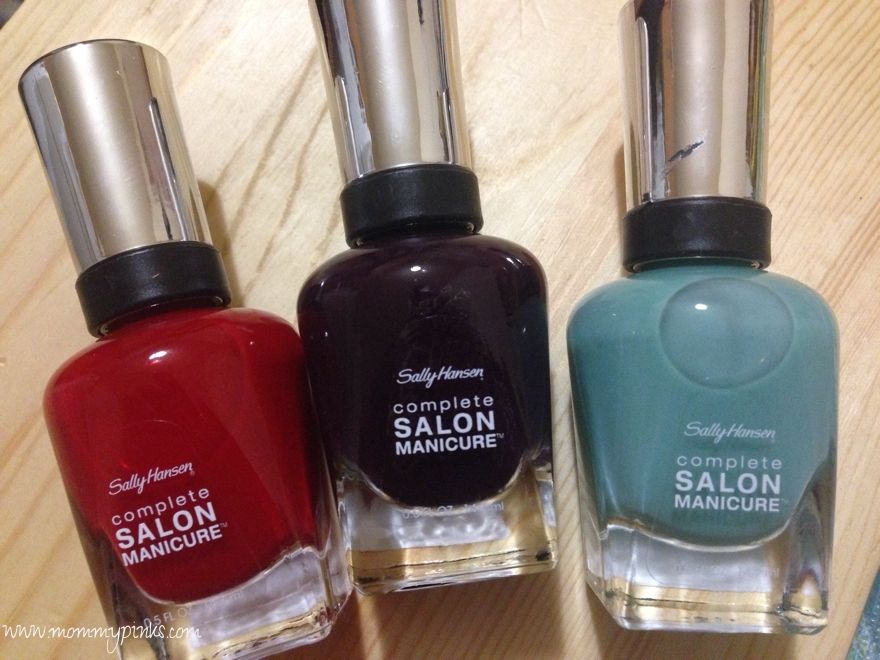 My Sally Hansen Complete Salon Manicure courtesy of Influenster!
So what makes this a Total Knock Out? It is a TOTAL PACKAGE! It has SEVEN BENEFITS in ONE BOTTLE! The base coat, strengthener, growth treatment, color, top coat, it is chip resistant and has a gel shine finish, and with the Flawless Finish Brush, I get a salon perfect mani! That is so awesome!
Since I am no pro when it comes to nail colouring, I tried the Red My Lips colour first: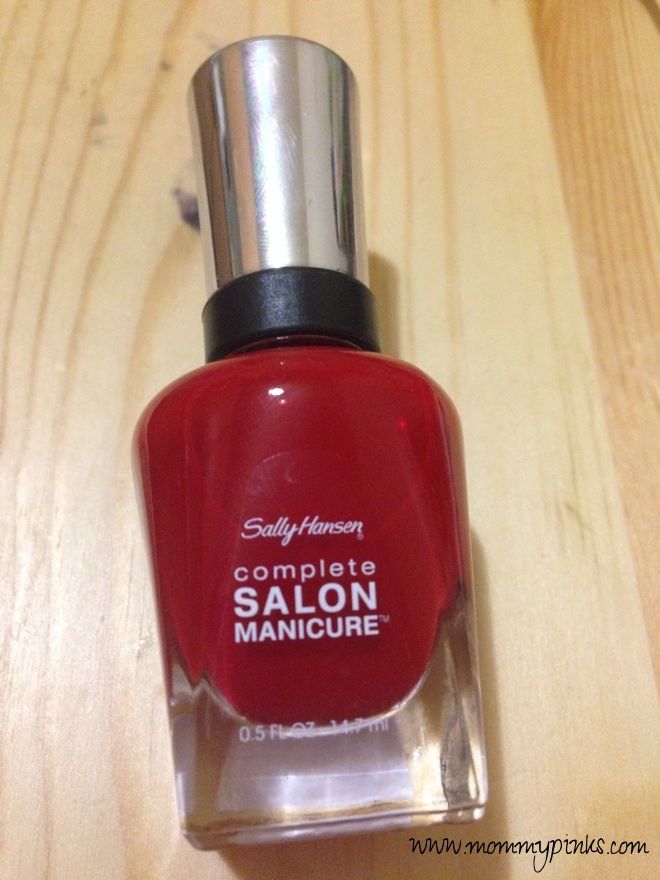 and the result (take note: I don't usually colour my nails and I have shaky hands):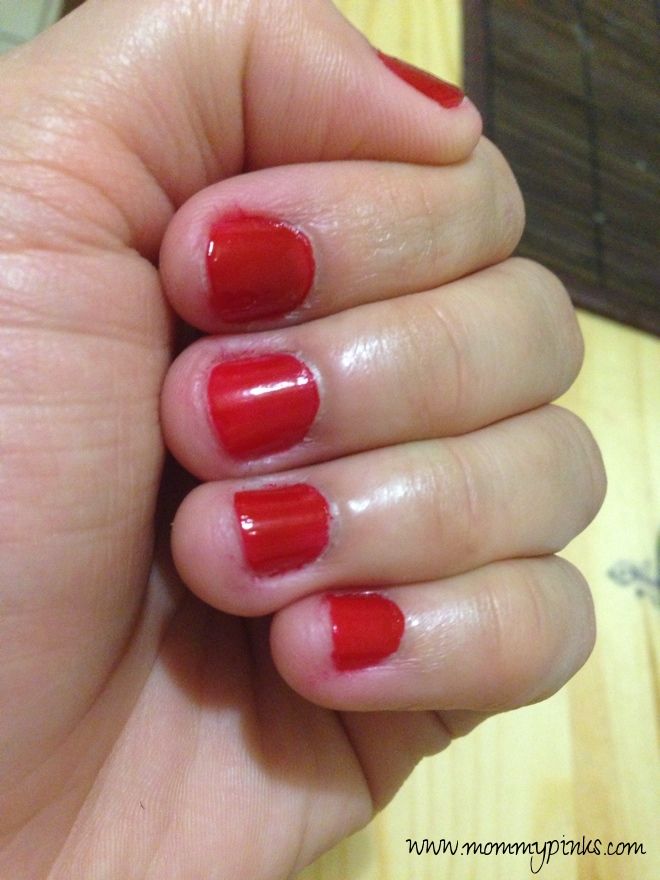 Taadaaaa! Red My Lips nails by Sally Hansen!
I love the fact that I don't have to use a top coat, a strengthener and or a base coat any more because one bottle has everything a salon manicure does! I love the brush because it stays together once I start spreading the polish on my nails, unlike those that I've used before, some brush strands break away and stain the outsides of my nails, thus leaving a messy manicure. While the Sally Hansen Flawless Finish Brush gives me that salon perfect mani!
I tried the Pat on the Black and this is the result:
Love love love this colour!!!
Being a mum, I frequent the kitchen and do a lot of chores, with the Sally Hansen chip resistant benefit, the colours survived constant exposure to water (like washing the dishes), chemicals (dishwashing liquid and stuff like that) and other mummy chores, and that's what I love about it! In fact, I have already recommended this to my co-workers! It's sheer bliss!
I just love the Sally Hansen Complete Salon Manicure I got from Influenster! It is way better than the brand that I use before and will definitely continue to use them. I can't wait for Spring and Summer! Visit the the Sally Hansen website to know more about their products or like them on Facebook, follow them on Twitter and Instagram for updates.
Disclosure: I received these products complimentary from Influenster for testing purposes.