So it's Day 1 of my 30-day challenge! Day 1 is to share a recent picture and something about the week.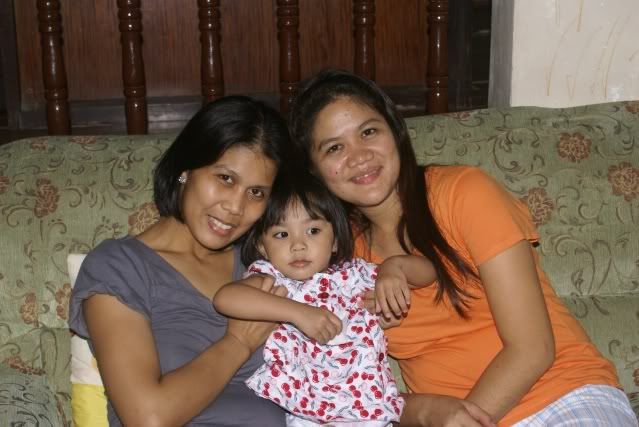 This was taken last Saturday, January 22, 2011. This is my sister-in-law with her 2-year old daughter Adara. They were here to fetch my mother to bring her back to Cebu and to live in their newly purchased house. Mama lived with us here in Bohol for three years and everyday, Mama complained about her living conditions. Although we have provided her the best and the most comfortable room we could ever give, but still, she was not contented and all. Everyday for three years, we heard nothing but complain and gripe about her stay in our abode.
So my younger brother decided to bring her back to Cebu where she used to live and to stay with his mother-in-law. So they were here for just a few hours and got Mama. And three days after Mama left, we all miss her! 🙁 Although my mom and I were never that close, but I still miss her, so does my hubby and her nanny too! Our house now is back to its peaceful and tranquil state (except for my little boy who messes up the things inside the house). It's quite different with the way things are in the house right now without mama's presence.
So that's it… as simple as that. I have started my 30-day challenge. It really is quite a challenge because sometimes I find myself blank and just staring at the laptop and just couldn't think of anything to write. I hope I can get through the 30 days! See you again tomorrow! 🙂