I offer this post to the victims of Typhoon Haiyan in the Philippines. As I assembled and lit up our first Christmas tree here, I thought and said a prayer (and did my share) for my fellow countrymen back home who have to go through all these ordeal. Despite all that has happened, may you have a merry Christmas. You all are in our thoughts.
Christmas is just a few weeks away and I have never been this excited about Christmas. It's our second Christmas here in Canada, our second winter and I have just seen how excited the people here are to buy gifts for loved ones, to decorate and light up their Christmas trees and to celebrate the birthday of our Lord. Last year, we started out with nothing, and months of working has allowed us to buy our very first Christmas tree here in Canada. It may not be the real one, but at least it symbolizes Christmas.
I was so giddy to put up our Christmas tree and when it was done, I had a few of the ornaments that I bought put up too. One of these ornaments are from Ornaments with Love. It is a personalized bear family (which I find so cute) Christmas ornament with hearts and two children. While browsing through Ornaments with Love's website, this is the one that I find fitting for our Christmas tree.
I love that the ornament can be personalized and at the website, it was so easy to do it. I just wrote the names of my family members and placed my order and viola! This is the ornament at the website:
And the personalized ornament I got:
Labado Family 2013 Christmas Ornament
I really like the bears and it just reminded me that during our first family camping last August, we had bears as our names on our camp tee-shirts, so when I saw this, it was just perfect! I also like that our names are clear and bold. This personalized ornament measures 4.5″ x 3.75″ and is made of clay dough. Its size is not too big and not too small for our Christmas tree. The colours are also bright and it just feels so Christmas! This ornament is also our first ever that I have adorned our first Christmas tree.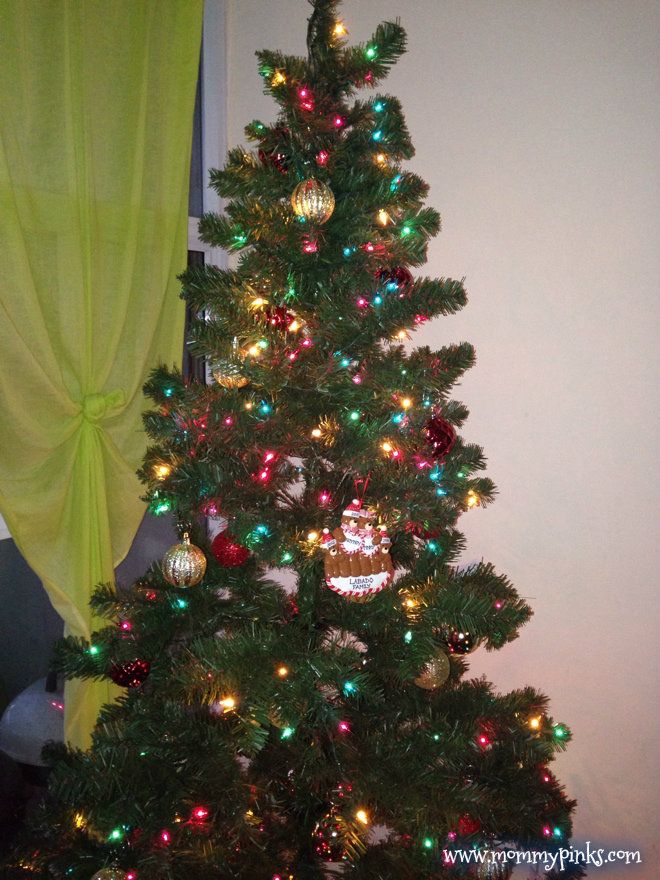 Our first Christmas tree here, still needs to be adorned with more ornaments! But I love it, my little boys love the lights and our family ornament!
Ornaments with Love offers personalized Christmas tree ornaments and they have a wide selection of ornaments to choose from. They have categories like families, pets, houses, military, professions, hobbies, music, angels, sports, friends, teens and so much more. They also have picture frames, tabletop decorations and other miscellaneous items that you can personalize and give to your loved ones or to a special someone.
To know more  about Ornaments with Love and to order your own personalized Christmas ornament, head over to their website, check out their Facebook page, follow them on Twitter and Pinterest! They have tons of ideas and ornaments to choose from.
*Disclosure: I was not financially compensated for this post. I received the product mentioned above for review purposes only. The opinions are my own, based on personal experience with the product.